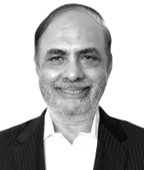 He holds a Ph.D. in Medicine from the University of Cape Town, South Africa. He joined UCB from Schering Plough Corporation where he was Senior Vice President, Discovery Research and Early Clinical Research & Experimental Medicine, Schering-Plough Research Institute, the pharmaceutical research arm of Schering-Plough Corporation, and Chief Scientific Officer, Schering Plough Corporation.
Ismail came to Schering-Plough from Merck, where he was Senior Vice President Basic Research and Site Head, Rahway, Montreal and Madrid. He also chaired Merck's Antibacterial and Antifungal Worldwide Business Strategy Team.
Prior to that, he was Vice President, Research, and Global Head, Genomics Science and Biotechnology, with Pharmacia Corporation. Prior to his move to Industry, Ismail was Professor of Human Molecular Genetics, Monash University Medical School and Director of the Research Center for Functional Genomics and Human Disease. He was at Monash for approximately 15 years.
Ismail has published 159 papers in top scientific journals which have been cited over 15,000 times and has brought 17 major medicines to market during his 20 year career in the pharmaceutical industry.
He holds Adjunct Professorships of Medicine at Washington University, St Louis, Missouri, USA, and Monash University Medical School, Melbourne, Australia; a Foreign Adjunct Professorship at The Karolinska Institute, Stockholm, Sweden; and is a William Pitt Fellow at Pembroke College, Cambridge University, UK. He is a member of the Board of Athersys Inc., Biotie Therapies, and Astex Pharmaceuticals.