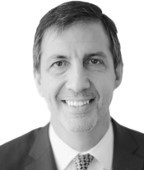 Geoff joined Aquiline in 2005. He is a partner and is the chief operating officer of the firm. Prior to joining Aquiline, he was with Venturion Capital, a private equity firm he co-founded that invested in financial services companies in North America and Europe. Previously, he led the European financial services investment banking practice of Smith Barney and was a senior manager of its global financial services capital markets practice. Earlier in his career, as a venture capitalist, he founded three start-up companies and served as a proprietary trader of exchange rate and interest rate products for Drexel Burnham Lambert, Kidder Peabody and Westpac Bank.
Geoff's current investments include FIFS and Virtus. He previously worked with BinckBank, BISAM, Fenergo, CRT, Nexar, and Structured Credit Holdings.
Geoff holds a B.A. in History, from Columbia University and a Masters of Public Policy in International Finance from John F. Kennedy School of Government at Harvard University.