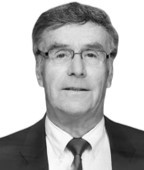 Per Wold-Olsen was born on 6 November 1947 and is a Norwegian national. He holds an MBA in Economics Administration as well as an MBA in Management and Marketing.
Per Wold-Olsen joined Merck & Co. (MSD) in 1974. He became Managing Director of the Norwegian subsidiary in 1976 and Regional Director and Vice President of the Scandinavian region in 1986. In 1991, Per Wold-Olsen was appointed Senior Vice President for Worldwide Human Health Marketing of Merck & Co. Inc. in the US, and in 1994, he was appointed President of Human Health Europe of Merck & Co., Inc. In 1997, his region increased to include Eastern Europe, the Middle East and Africa, as well as Worldwide Human Health Marketing.
In 2005, he was appointed President of the Human Health Intercontinental Region, Merck & Co. Inc. From 1994 to 2006, he was also a member of Merck's Management Committee.
Per Wold-Olsen is Chairman of the Board of Directors of GN Store Nord A/S, Denmark and Medicines for Malaria Venture, Switzerland, and serves on the Board of Directors of Gilead Sciences Inc., United States of America. He is also a board member of Novo Holdings since 2011.