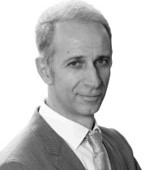 Laurent Bouyoux is a Co-founder and Managing Partner of BlackFin Capital Partners. His expertise in the formation of companies can be dated to 1986 when he becomes one of the founders of the Société Générale's derivatives business, in Paris and Tokyo. 5 years later, Laurent becomes Deputy Head of Global Derivatives (then Global Fixed Income of Société Générale) until 1994. In that same year, he joins Commerzbank group in Frankfurt, and alongside Paul Mizrahi, becomes a founder and shareholder of Commerz Financial Products, a subsidiary created to develop Commerzbank's derivatives business in Europe.
In 1999, alongside Paul Mizrahi and Eric May, Laurent founds the ProCapital group, a regulated investment firm and member of Euronext, and acts as Executive. Chairman of the Management Board. ProCapital was involved in two businesses, securities services and, through its subsidiary Fortuneo, online brokage. They grew the business to become the French leader in the sector, combining organic growth and a number of targeted acquisitions. The founders sold ProCapital (including Fortuneo) in 2006, and until 2008 Laurent Bouyoux worked for Aquiline Capital Partners in New York, a leading US private equity firm specializing in the financial services sector, as a Senior Principal.
A French national, Laurent is graduate of the Ecole Polytechnique and the Ecole de la Statistique et de l'Administration Economique (ENSAE).